Community
Local Sewing Chapter Hosts National Convention in Central
By
|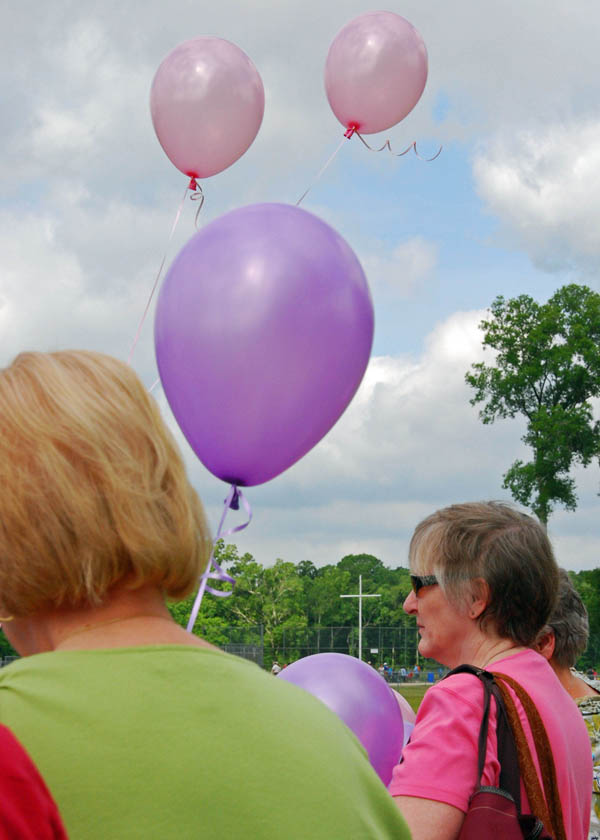 Balloons were released by Threads of Love volunteers in memory of babies they have sewn special garments for at the closing of the conference.
By Lisa Magee
The Greenwell Springs Baptist Church chapter of Threads of Love hosted the bi-annual conference of the international organization in Central last Wednesday through Saturday (April 25 – 28, 2012). A total of 87 women and men volunteers representing eight states attended the conference and received education, entertainment and encouragement to continue their special Christ-centered ministry of sewing and creating clothing, blankets and other handmade articles for tiny premature and sick infants.
Those who attended were offered a variety of educational classes ranging from smocking, embroidery, serging, scrapbooking, jewelry making, heirloom sewing techniques as well as loss counseling and web building.
One of the guest speakers at the conference was Rachel Hausmann, M. D., the pediatrician from Earl K. Long Charity Hospital in Baton Rouge who made the call to a local pastor in 1993 for a request with someone with sewing skills to make tiny gowns for patients who were born prematurely and were too sick or too tiny to survive. Sissy Davis and Anna Miller responded to their pastor's request. Little did Dr. Hausmann know that her call and Sissy Davis' response would grow in to an international organization with 136 chapters and thousands of volunteers who have provided over 1.3 million items for babies and their families throughout the world in the last 19 years.
Other speakers included a Labor and Delivery nurse, a Neonatal Intensive Care Unit (NIC-U) nurse, and a father who lost his infant son because of premature birth. Each one spoke of how the items supplied by Threads of Love have positively impacted their lives.
Entertainment included a hilarious performance by the Menopausal Ladies; ventriloquist Christie McMorris; chalk art by GSBC minister, Wilton McMorris; and a concert by the southern gospel group Spoken4.
The conference concluded Saturday morning with Tony Perkins, president of the Family Research Council, encouraging the group to continue their work and pass their sewing skills on to young people so that the art of sewing will continue. A final prayer and balloon release was held in the GSBC cemetery in memory of prematurely born babies and abandoned children who have passed away alone.
Threads of Love is a nondenominational organization. Their mission is healing and binding hearts of parents in time of uncertainty about their baby's health or when they lose an infant. Threads of Love welcomes volunteers. Additional information on Threads of Love can be found at www.threadsofloveorg or by calling their office weekdays at 225 667-7714.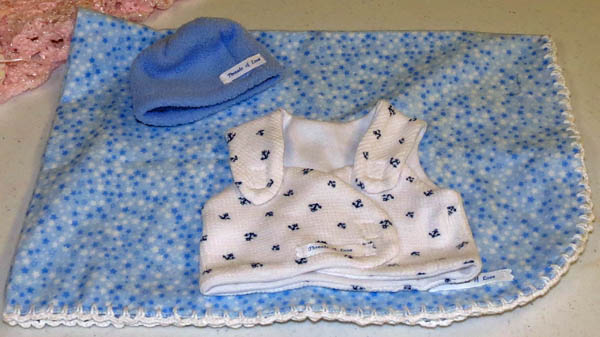 The Sleepy Vest, Premie Cap and Blanket are made for babies in Neonatal Intensive Care. The Sleepy Vest keeps baby warm while providing easy access for doctors and nurses.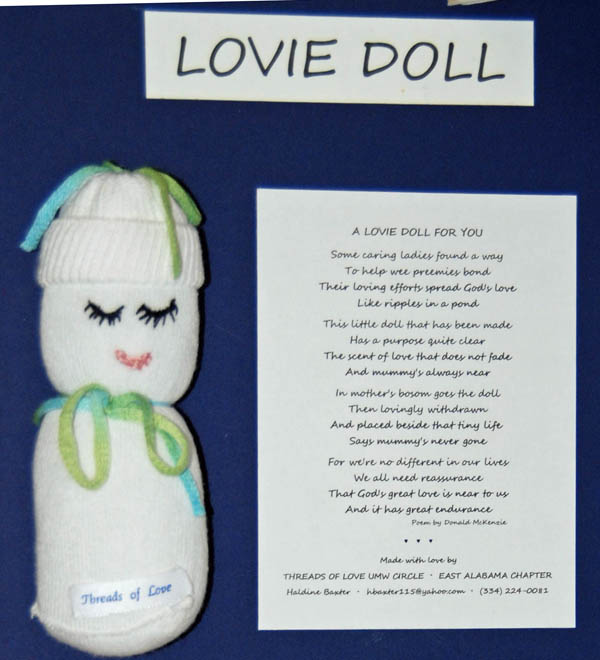 Lovie Dolls are made for babies in Neonatal Intensive Care. The doll rotates between staying with the baby and mom. It allows bonding between mom and baby while the baby is in the NICU through the transfer of each others' scent.