Arts/Fun
At Last! Central Gets Family Entertainment
By
|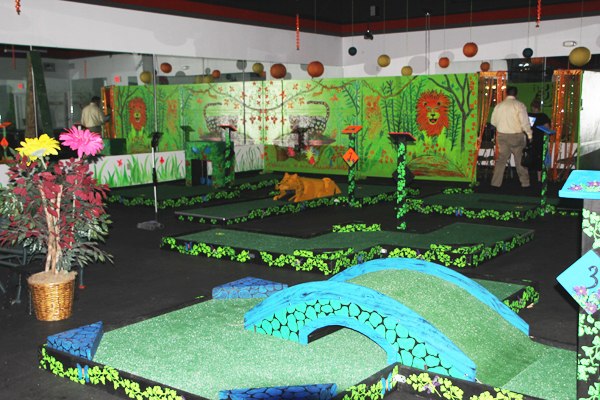 A view of the mini golf course, part of the entertainment offered at Wildcat Station.
By Mia Freneaux
If you have noticed a billboard on Greenwell Springs Road advertising "Wildcat Station," your curiosity can now be satisfied! Wildcat Station opened this past Tuesday, May 1st, and is having their Grand Opening and Ribbon Cutting this Saturday, May 5. Owners and Central residents DeeDee and Jason Dupree are tremendously excited to be able to offer quality, family friendly entertainment to Central. The Grand Opening will have a DJ, free drinks and pizza (while supplies last), and will be giving away a Wildcat Station t-shirt every 30 minutes between 12:00 and 4:00.
It all began when they visited the Rock House in Lafayette. To their surprise, they saw two other Central families there at the same time, and realized much of Central's entertainment dollar was leaving our city. "We realized we were always leaving Central to do something," DeeDee shared, "The only thing to do in town was go out to eat! Teenagers also complain that there is nothing to do here, underscoring the need for a place for them to have fun."
DeeDee and Jason launched into opening a "family friendly fun environment for all ages." Featuring a 9 hole indoor mini golf course, arcade games, air hockey and billiards, there is fun for everyone at Wildcat Station. Plus, everything is blacklit and glows in the dark, adding an interesting twist. "We believe in Central," DeeDee said, "We're hoping the people of Central will really get behind Wildcat Station. Other types of businesses will come if they see we are successful." An additional benefit: Wildcat Station is fully staffed with Central area teens ready to provide excellent customer service.
Wildcat Station is focused on being reasonably priced and providing everything to make an evening out complete. A concession stand offers snacks and drinks; again, reasonably priced. Token packages are also available. Whether you're looking for a place for kids to go on the weekend, or want a "date night" out with your spouse, Wildcat Station offers something for everyone. DeeDee and Jason, committed Christians, are dedicated to maintaining a family-safe environment, no inappropriate behavior will be tolerated.
Party packages for birthdays, end of the year parties, and other events are available. The benefits are many. Wildcat Station is completely indoors, making it a great choice for any time of the year (no bugs, no humidity!). It offers levels of packages, so there is something affordable for any budget. Plus, they try to make it as easy on the participants as possible. "I've held birthday parties where I've been so busy looking after the needs of my guests that I missed my child opening presents! We're trying to make a party enjoyable for everyone by remembering all the details for you," said DeeDee. Packages can include games, favors, glow in the dark bracelets, unlimited mini golf, pizzas, and paper products in the theme of your choice. All you have to bring is the cake and ice cream. They even have candles if you should forget!
Come check out Wildcat Station. 14395 Greenwell Springs Rd (behind Snap Fitness in Oak Point Shopping Center). Call 663-6379, or visit them on Facebook, or email them at WildcatStationCentral@yahoo.com to schedule your party. Hours are Tuesday – Thursday 1:00-10:00 pm, Friday-Saturday 10:00 a.m.-11:00 p.m., Sunday 12:00-10:00 p.m. Closed Mondays.