Community
Central Clean Up Day Volunteers Clean 15 Miles of Central Roads
By
|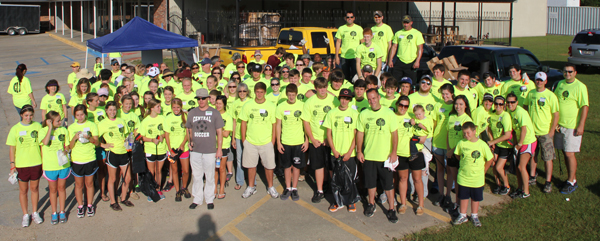 Photo by Dave Freneaux
Central Leadership for Tomorrow headed up an effort last Saturday morning to clean up several of Central's main roadways, including Greenwell Springs Rd, Sullivan Rd, Hooper Rd, Joor Rd, Gurney Rd, Wax Rd and Denham Rd. Over 100 volunteers came from around the city to help. Please remember not to litter, especially out of your car window. Another easy step you can take is to make sure to tie up all of your trash in trash bags before putting it into your garbage can for pickup. When the garbage truck picks up your trash can, loose trash can and will fall out onto the side of the road if it is not bagged. Take a small step today to keep our city clean.
Thank you to everyone who came last Saturday to help clean up our city, including groups like the CHS football and soccer teams and the Central Bloomers Club. Help keep our roads clean – remember to bag your trash at home and to dispose of your garbage in the proper place.
The planning team for the Central Clean Up included Alexandra Peairs, Mike Gardner, Jayme Skelton, Jonathan Starns, Aaron Moak, Kimberly and Jason Ellis, John Dauzat and Belinda Sheridan. Thank you to everyone who came out to help!